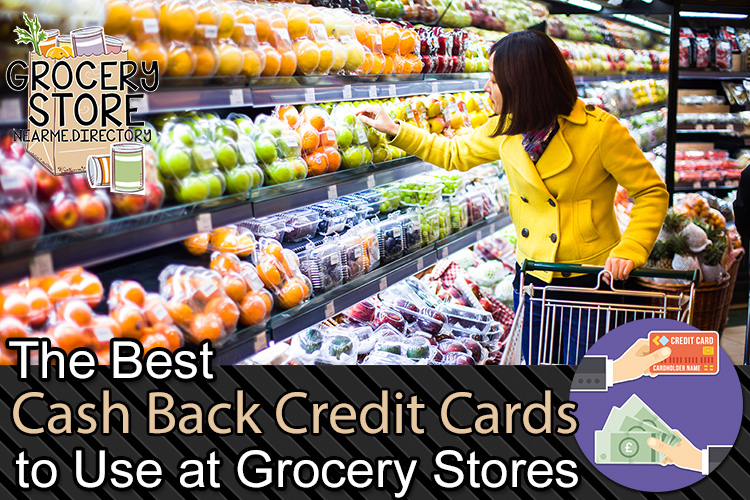 The Best Cash Back Credit Cards to Use at Grocery Stores
0
The world of credit cards sometimes gets a bad reputation, but if you can practice a little bit of restraint and pay it off in full on a monthly basis, these tools can prove to be an excellent source of additional income, and that's where cash back credit cards come into the picture. Take grocery shopping, for example. We all do it out of necessity, but when certain cards offer you all sorts of benefits just because you used their brand of plastic, it seems foolish not to use one, because you are essentially earning free money.
With that in mind, here are some of the best cash back credit cards to get you started at your local grocery store.
Santander Bravo MasterCard
The annual fee of $49 might not tempt all readers, but it is also not the worst fee you will find on this list, especially when considering what you get in return. With a 3% cash back rate which applies to the first $5,000 spent per quarter (which is the equivalent to around $1,700 per month) you could be looking at the potential of earning up to $600 cash back a year. These are rewarded in points that can be redeemed for gift cards or even airplane tickets, just because you went to the grocery store, gas station, or the restaurant. Did we mention the $100 bonus cash back if you spend $1,000 within your first 90 days? There's that too.
You can find out more about this card on their website.
Bank of America® Cash Rewards
One of the more popular choices of credit cards right now, would be this Bank of America offer with its generous reward system. This is because, for the first $2,500 spent on combined purchases each quarter, you can earn up to 2% back on all grocery stores and wholesale clubs (not to mention 3% on gas!).
Want more? How about absolutely no annual fee. Or the fact that you can claim all your cash back by getting it paid directly into your checking or savings account, and you will receive an additional 10% bonus just for doing so. There is also a $150 reward if you spend $500 or more in the first 90 days of your account opening. And finally, none of these rewards ever expire.
If this seems the right card for you, head over to their website for more information on how to apply.
Consumers Credit Union Visa Signature Cash Rebate Card
To reap the benefits of this Consumers Credit Union card, you need to be a member of their said union. Luckily, becoming a member is as simple as paying a once off $5 fee to the Consumers Cooperative Association (their sponsor), and then keeping a minimum of $5 in a membership savings account.
Slightly complex, yes, but when considering what some cards expect as an annual fee, it's hardly a comparable dent in the bank. And then, once you are a proud union member and Visa Signature Cash Rebate Card owner, you will receive 3% back on any grocery and/or convenience store purchase available, plus an additional $100 bonus if you spend $1,000 in the first 60 days of joining. However, the annual $6,000 cash back maximum is worth keeping note of.
Find out more about the CCU Visa Signature Cash Rebate card on their website.
Huntington Voice
What makes the Huntington Voice card system so unique is that you have the option to boost your cash back earnings per a category of your choice. So, in context of our current topic at hand, by selecting your grocery shopping as your preferred boost, you will earn 3% of these purchases back, and 1% back for all other unrelated grocery purchases. It hits the ceiling at a quarterly 6,000 point maximum (the equivalent of $2,000), which could earn you up to $60 every four months. Doing the maths, that's $240 extra money in your pocket every year without doing all that much different.
Convinced? Check out their credit card rewards page to apply now.
PenFed Platinum Rewards
PenFed may seem like one of the smaller reward systems on offer here, but if used correctly, can still be a wonderful addition to your saving savviness. It offers an unlimited cash back amount of 2.55% on groceries, meaning that if you spend $600 on groceries a month, for example, you'll take home $15.3, which alone is $183.6 expendable income a year.
Unfortunately, in order to benefit from this expendable income, you will have to become a member of PenFed credit union, which thankfully, is as simple as making a one-off donation to either the National Military Family Association or Voices for America's Troops, for roughly $14 or so.
If you're interested, check out the page on PenFed where you can easily calculate your rewards and apply for the card.
NUSENDA Credit Union Visa Platinum Rewards
Becoming a member of the NUSENDA Credit Union is as simple as applying for the card, and once you have been accepted, you may find their rotating cash back system to be fascinating indeed. Every four months, the categories in which you can claim your cash back changes, and from January to March, it's groceries turn, giving you the chance to earn 5% back on up to $1,500 of your regular purchases. It may feel like an annoying feature to be forced to remember what time of the year to use which card, but without any annual fees, it's still a nifty little bit of plastic to have on your side.
Blue Cash Preferred® Card from American Express
At a $95 annual fee, there better be a good reason as to why the Blue Cash Preferred® Card is such a popular choice between cash back hunters and big grocery spenders, and thankfully, there most definitely is. It offers a massive 6% cash back on your first $6,000 spent at U.S supermarkets every year (and a rolling 1% after that!), meaning that if you manage to max it out, you're looking at a cool $360 right back at you. What's more, spend $1,000 on the card's first 3 months of opening, and you'll get an additional $200, just like that, totaling to $560 in your first year if you play their game properly.
See American Express' page on how to apply for the Blue Cash Preferred® Card.
Blue Cash Everyday® Card from American Express
If the idea of the $95 annual fee from the Blue Cash Preferred® Card puts you off, then you may want to tone it down into the Blue Cash Everyday® Card, also from American Express. There will be no annual charges, and you can still earn a respectable 3% from your first $6,000 at U.S supermarkets every year (plus the rolling 1% again), as well as $150 if you spend $1,000 in your first three months. And the best part of all? This card will never change its annual fee as long as it lives!

There you have it, 8 cash back credit cards to choose from that'll save you money when grocery shopping. Enjoy!

October 16, 2017 | Grocery Store Near Me